Hello everyone!
I had an interesting experience last night: for the first time, I accidentally lost Camp NaNo. I had 1k left to write, which I can do in about half an hour, so I had it in the bag. I had my first meeting with a crit group I've just joined, which went really well and I'm really looking forward to having more sessions with them and getting the full crit group experience. After that, I went to a friend's house for dinner with a small, group of friends. We ate, we laughed, we had a blast. We missed the last subway home and got driven home, and as I was getting into bed just before 2 am I went "oh shit, Camp!". So I ended up at 24k instead of 25k but honestly, I'm not even disappointed. The draft wouldn't have been completed anyway, and I didn't fail so much as just forget. And I still enjoyed Camp and look forward to continuing the draft at a slower pace.
Last week I decided not to wear black all week, and since it was Stockholm Pride week I tried to wear the colors of the flag. I wanted to make a little collage of my outfits but the selfies weren't good enough and I just couldn't line them up in a way that would create that Pride flag look well, so here's just a picture of my Monday outfit which I think was my favorite of the week: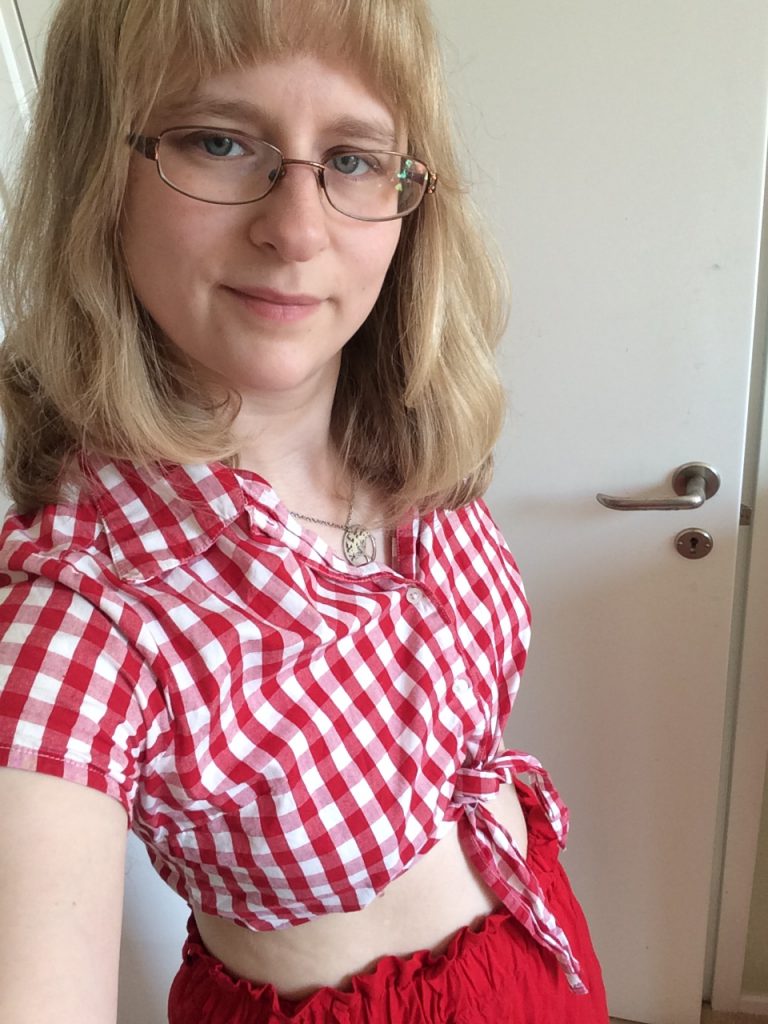 I used to wear crop tops all the time and at some point I just stopped. I'm gonna start again. Basta!
Apart from thinking a lot about my clothes, last week I:
The next few weeks is gonna be mostly focused on my BA thesis, and I probably won't have much time for writing. I'm gonna be writing one more GlobeIn review (and then I'll be caught up until I get my next box), posting for Flash Fiction Friday and on ZeroEightLove but other than that probably not much. Now if you'll excuse me, I have to copy that first paragraph into this month's newsletter. If you haven't signed up for my newsletter yet, you should sign up in the little box in the right-side menu.