This past week has been a bit *sad trumpet sound* in terms of the goals I set for myself last week. I didn't do the GlobeIn review, and I didn't do Flash Fiction Friday. I did, however, start poking at my project from Camp again. I just did some basic organizational stuff, but it feels good to be back at it, however lightly. It's gonna be fun to work on in gradually over the next little while. I did write a bit as well, but it was all for a Dungeons & Dragons campaign that just started. So it's writing, but not writing, if you know what I mean. Still fun, though!
On Wednesday, something called the 100 Days Project is starting. Basically, you pick a project and you do it for 100 days straight. I'm doing a random crafts project! Each day I'll draw a note out of the jar below, and think up something to do based on the craft supply listed on the note. There's 22 notes, so that should give me decent variation over the month.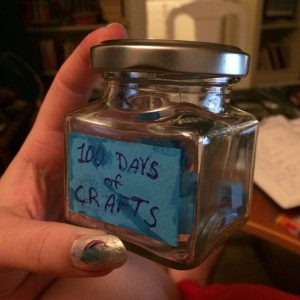 I'll be honest: new projects are sort of the last thing I need right now. But it just seems like such fun!
Other than random crafts, this week I will be:
Doing Flash Fiction Friday
Writing that GlobeIn Review
Poking at my camp story, henceforth known as my Swedish vampire story. I'm gonna be doing some outlining, and also a quick edit of the very first section of it, which I'll be bringing to my crit group in early September. It'll be my first time submitting something, so I'm excited and nervous!
I'll also hopefully finish the draft to my thesis this week, or at least before the end of the month. Then there's two weeks of revisions, and I'll be done. Well, except the thesis defense but for just now, I'm pretending that doesn't exist.
And speaking of my thesis, my theory section needs a quick poke before I hit the hay. Goodnight, everyone!