That's right, folks, I still haven't looked into the Print-on-Demand thing. I should probably stop saying I will, and just let ya'll be pleasantly surprised when I actually do it. So, what have I done this week? Well, this: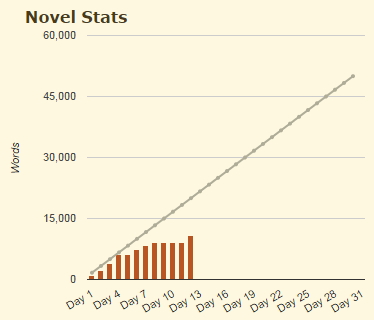 Not a very productive week, as you can see. I had this freelance project I was working on, which was a lot more time-consuming than I'd imagined due to technical jargon. Plus, I was a bit lazy. But not to worry! The graph is from yesterday, so you can see I've started catching up, and I got an additional 2k today, so I'm on the right track. This story is growing in all kinds of directions too, up from 3 to 6 viewpoint characters now. Phew! And today I had this long talk with an illustrator friend of mine (who is pretty dang awesome!) which got me thinking of how awesome this story would be as a graphic novel. Which is way beyond what I could pull off myself since I can't draw very well, but it's a nice thought.
So what will I do this week? Keep Nanoing! I'm at 13,5k now, so I'm hoping to be past the 25k mark this time next week. Will I be? Don't know! But I'll try. I will also start looking at this project I'm helping the illustrator friend mentioned above edit, so that'll be fun, too.
And now, my sweets, I am going to sleep. Even though I haven't done my nails today like I wanted. See, I'm prioritizing Camp over manis. A sure sign I've gotten back in the swing of it!
I'm kind of story-high right now. My Camp story is going such interesting places, and I've dreamed two books ideas in the last ten days! Not only that, they're both good book ideas. Very exciting! Not sure how I'm gonna sleep! 😀