I actually wrote this yeterday but I was having some net connectivity problems and couldn't post it before bed. So here it is now!
I did something a bit different with this flash fiction piece. My boyfriend suggested that instead of using one of my regular methods of prompt generation (like Dixit cards or random generators online) I should use my tarot cards as a prompt. So I did a simple celtic cross spread with my much beloved and little used deck, and attempted to read a story in the spread. Here is the result:
The Offering

The temple loomed above her as she slowly ascended its stone steps. Their yellow hue filled her with a feeling of homecoming, for the small stone houses in the Awayvillage were nothing but gray. The stone was warm under her bare feet, heated by the morning sun. They almost felt soft, like walking in sand. She did not hurry her steps, wanting instead to enjoy this perfect moment. A few more steps and she would see her love again, for the first time in what felt like forever. She had counted the days until their reunion carefully, baring the mandatory separation before marriage with expectant patience. The day was today, and soon they would be joined until the end of time.
She did not know of the scourge that had befallen the city during her long absence. She did not know how the harvest had failed and how the people had starved. She did not know how the priests and the elders had turned to the old ways, frightened that they had angered the guards or failed to correctly interpret some omen, and begun once again to spill the blood of the young onto the temple floor.
She did not know any of these things as she reached the top of the stairs and entered the temple.
And in case anyone's curious, here's the spread that rendered it: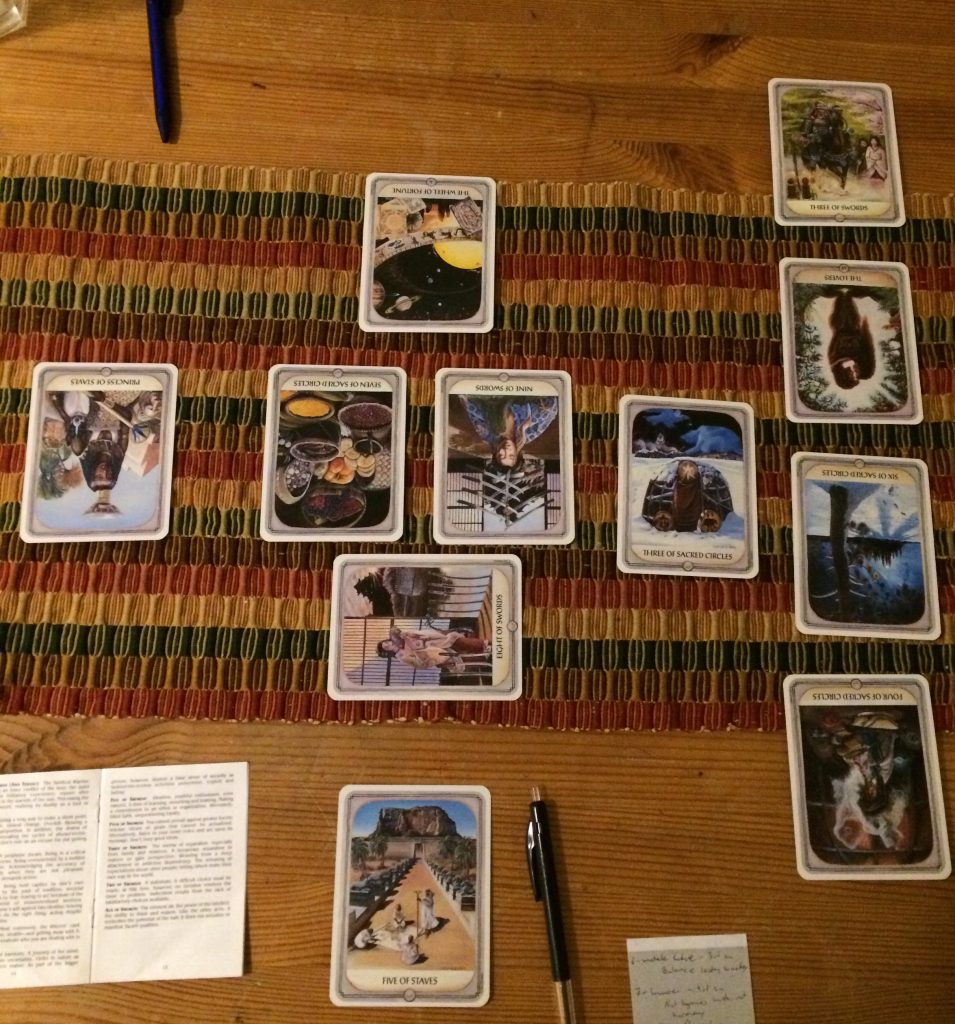 Click on the image to read the names of the cards.
I found this technique very fun and very challenging. I can't say that I used every card directly in the story, rather I used most of them to build up the vibe and background for the piece. Even so, it was challenging to make sure that all aspects were considered and, at least, none were contradicted. I will definitely be trying this again when I want to mix it up a bit, but probably not too often.