So, I decided to participate in a challenge called Blog Ahead 2015, the purpose of which is to build your list of scheduled blog posts.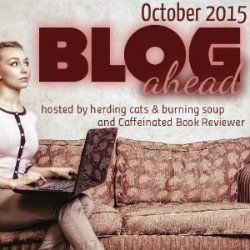 The challenge comes from Herding Cats and Burning Soup and the goal is the following (text taken from the aforementioned site):
The Goal

Build your total number of scheduled posts by 31!

On October 1st take your number of scheduled posts and add 31.

Whatever that number is…that's your goal for the month.

You'll end the day on Oct 31st with that many scheduled posts. Woots!

Example- If you start October with 5 scheduled posts

you end Oct with 36 scheduled posts.
Now, I don't have any scheduled posts. I do, however, have a long list of topics I'd like to write about, so I'm going to use this challenge to turn that list into actual posts, ideally 31 of them! I'm not going to schedule these posts to specific dates, but rather use it as a "back list" from which I can select posts to put up in place of my regular posts if I miss one or just when I feel like posting something extra.
I will be updating this post to track my progress. Wish me luck!
Posts written so far: 0/31
---
Update 3/11: so the month finished, and I wrote a total of 10 posts. Not exactly 31, but still more than I had before. I just didn't have the time and energy to dedicate to the project. Maybe next year…