A while back, I stumbled across A year of reading the world, a blog by a woman who challenged herself to read one book from each of the 195 UN-recognized sovereign states plus Taiwan (for a total of 196) in one year. I thought this sounded both like a fun project, and like a project that's way too large for me at the moment. So I decided to make an effort to make little reading challenges for myself during those periods when I have a lot of time on my hands, for example when I'm on vacation. I have a few different ideas for what kind of challenges they'll be: based on theme, genre, country, original language etc. However, the first one will be a little different: I'm going to read books that I have in my bookshelf but haven't gotten around to reading yet.
As it happens, I will be off work for a grand total of 18 days this Christmas thanks to a very strategically places Christmas Eve, four vacations days and my flexible half-time schedule. Considering a fair few of those days (Christmas Eve, New Years Eve, the 20th when I'm going to a wedding etc) will be spent socializing I've decided that 15 books seems like a reasonable goal. Once I'd decided that, I took all my unread books out of my bookshelf to see how many there were. This was the result: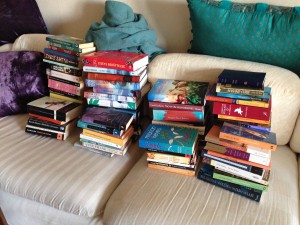 A bit more than 15, as you can see. I will have to do one or two more bookshelf challenges next year before I move on to the others, I think. Anyway, the one's I ended up choosing for the challenge were (in no particular order):
The Hunger Games Trilogy by Suzanne Collins. I like my a good dystopia, so I bought a box set last Christmas (or was it two years ago?) but didn't get around to it.
Miss Peregrine's Home for Peculiar Children by Ransom Riggs. I bought it spontaneously because the cover drew me in.
A Thousand Splendid Suns by Khaled Hosseini (in the Swedish translation). Don't know where I got this, but I've been meaning to read something of his since I saw The Kite Runner.
Gösta Bergling's Saga by Selma Lagerlöf, a Swedish classic that I've only read bits of in school and such. In Swedish, obviously.
Exquisite Corpse by Poppy Z. Brite. This was given to me by a high school friend but I never got around to it.
The Ivory Carver Trilogy by Sue Harrisson. I picked this up in a second hand shop because the cover said it was a lot like Jean Auel's Earth's Children series, to which I have a great sentimental bond.
Jonathan Strange & Mr. Norell by Susanna Clarke. I don't remember where I got this either, but it seems interesting.
The Ocean at the End of the Lane by Neil Gaiman, which I gave to my boyfriend when he moved here. Good Omens is the only Gaiman book I've read before so that'll be fun!
The Five People You'll Meet in Heaven by Mitch Albom. I think I might've nicked this from my bf when he was cleaning out this bookshelf at one point…
The Heart of a Woman by Maya Angelou. I didn't actually know this was in my bookshelf. I suspect my grandma gave it to me ages ago, but I was happy to find it because I've been thinking of picking up some Angelou lately since I'm way overdue on reading her.
Linsey's Story by Stephen King. Don't know where I got this, but it was the only King in my bookself and I thought it was about time I read something by him.
Quite a mix of box, as you can see. I think it's gonna be fun! Once I'm done and my holiday is over I'll be posting about how the challenge went. Hmm… can it be the 20th now please?