You know how they say that good things come to those who wait? Well, sometimes good thing jump on those who wait two days earlier than what they'd expected! Sometimes the good things are like "see you in a bit! Wait, just kidding, I'm coming now!" and they barge in through your door and there you are, without any tea on going "but I haven't vacuumed". What I'm trying to say is: Going Home is now available for purchase on Kindle via Amazon.com! Click this cover if you don't believe me: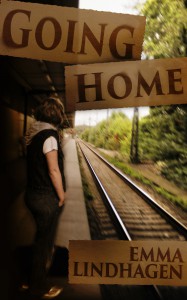 I'll be honest, I'm kind of shocked. I'd read that it could take a couple of days for an eBook to go live on Amazon so I uploaded it today expecting it to go live on Saturday as per my plan and two-three hours later there it was! Crazy! So yeah… I have a book. That's finished. That people can buy. With a cover and everything. So um… what do I do now? I feel like I hadn't planned this far. I'm half ecstatic and half petrified. I think I need a drink. Oh, and I have to call my parents!
Oh and here's the link again for good measure.
Yay me!