[Insert some kind of relevant intro that I couldn't actually think of here] so today I'm boosting:
So Sweet by Rebekah Weatherspoon
So Sweet is a erotic romance with a side-order of comedy (I mean, it's hella funny, don't get me wrong, but mainly it's a really hot romance, in my opinion) by Rebekah Weatherspoon and is part 1 of 3 of the Sugar Baby Novella series. It's about Kayla, an ambitious but currently jobless young woman who goes with her friend to a matchmaking event that specializes in pairing "pretty young women with older men of a certain tax bracket" as the blurb says (basically, sugar daddy/sugar baby matchmaking). Not expecting much from the event, she is taken aback when she clicks with a handsome, charming billionaire.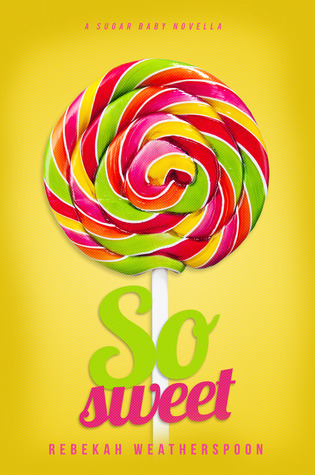 This book was such a nice read. Fun, fresh, emotionally resonant, and sexy. I loved both the main characters. Kayla is funny, down-to-earth, and just generally awesome, the sort of heroine I can root for every step of the way. And Michael… he's honestly the first book billionaire I've genuinely had the hots for. He was caring, charming and his dominating style in the bedroom didn't translate to being domineering. It was also really nice that while the story was romantic, the complications and conflicts were still the result of two mature, strong-willed but sensible characters trying to work out whether they're right for each other, and not on odd mix-ups or excessive drama. Rather than go off of a tangent about how common some tropes I really dislike are in romance and how glad I am this book didn't have them, let's just say I really loved this book! I haven't read the rest of the series yet because between school reading and the Diversity Bingo reading challenge, I haven't had the time to read part two of anything really. They're on my to-read list though!
Rebekah Weatherspoon a queer, black romance writer who writes both M/F and F/F pairing and a lot of diversity both in terms of themes and characters. She's written a lesbian romance called Treasure that I've heard a lot of good things about, and I just realized today that she's written a series about lesbian sorority vampires! Lesbian… sorority… vampires… into BDSM! I badly want to read that, as well as the remaining 2 parts of Sugar Baby. You know what… I've decided! With 15 books to go, there's no way I'm finishing the Diversity Bingo reading challenge this year anyway, so when I finish the book I'm on, I'm picking up So Right (Sugar Baby #2) and after that series is done, it's lesbian vampire time! Uh… where was I? Oh right. Rebekah Weatherspoon writes awesome stuff and you should check out her website and follow her on Twitter @RdotSpoon. Do it!