So, here we are! December 1st, and the first day of the ThinkKit December blogging prompts. Today's prompt is called A Thousand Words and challenges bloggers to share their year in photos, and talk about the role photos play in their lives.
2014 has been a year of ups and downs, the downs mostly involving stress around school and bad time management. I don't have photos of those things, but I do have photos of the good things and quite a few photos of the middle-of-the-road things, too. I take pictures fairly often on regular days, more so now that I'm quite active on Twitter, and I have no scruples against the occasional selfie either. So let's start off with my first selfie of the year, dating back to Jan 2nd: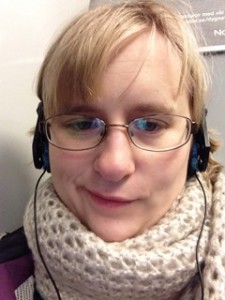 Ah, the classic "morning commute"-look. It might sound strange, but taking selfies on the semi-regular has actually made me less hung up about how I look in photos than what I used to be. Here's another frequent occurrence in my Photo Stream: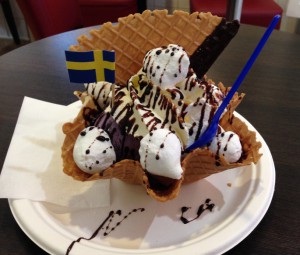 The delicious and enormous ice cream I ate this summer with a friend in a café in Gamla Stan (Stockholm's old town). Well, not this ice cream per se but food. Not all food, mind you. Only delicious, pretty food gets camera time, unless something's extra delicious in which case it doesn't have to be pretty. Another thing that's been popping up more and more is: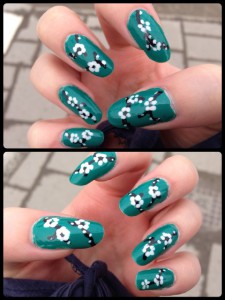 Nails!! I've done my nails more times this year than probably the last 5-10 years combined, and I'm getting quite good at it. It's become quite the hobby and a source of enjoyment, joy and quite a bit of frustration. Actually, doing my nails have become a self care thing for me, a chance to sit down and focus on just my hands for an hour or two per week, usually with a TV show on in the background. These flowering branches from the spring are probably my favorite out of all the manis I've done.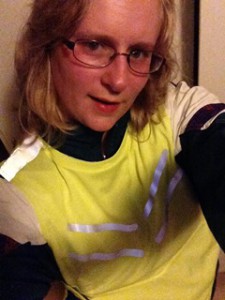 I've also gotten properly into jogging this year, as evidenced by this glamorous selfie. Note the stylish reflex vest and my tendency to become bright pink due to exertion.
2014 has also been a very mobile year for me. I've been to: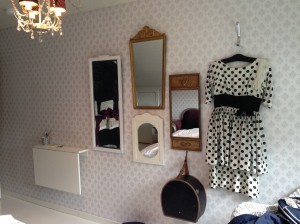 Grästorp in Västra Götaland County, where we visited my uncle and slept in this funky B&B room,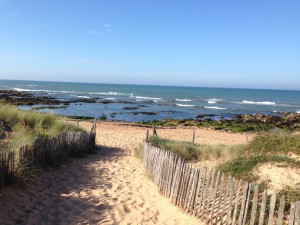 Les Sables d'Olonne in France, where my grandmother and I strolled along beaches and didn't get lost particularly often,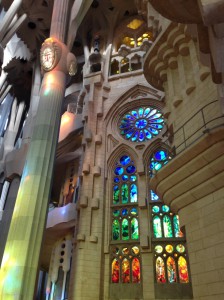 and Barcelona in Spain, where I was utterly wowed by the amazing architecture of Gaudí and in particular La Sagrada Família. Breath-taking!
Once place I didn't go to, however, was Canada. For the last few year, I've gone to Canada most winters. This year I didn't have to, because Canada came to me. Or rather, my boyfriend of 6 years came to me, having decided to take the plunge and get a Swedish residency permit. We've lived together for 4 months now, and so far it's been lovely.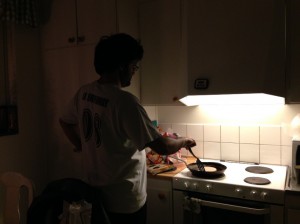 See? Having someone to make burgers for you is not bad!
But, and I risk sounding a wee bit codependent here, the most wonderful thing to happen all year is definitely my best friend making this beautiful little human: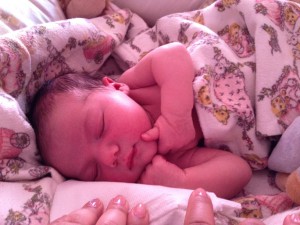 My darling niece, the first baby in my closer circle of friends, was born in April and has quickly risen to the top of my "Favorite people ever"-list. Here she is now, about six months later: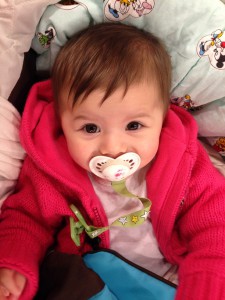 I mean, come on, look at that face! She is the awesomest baby I have every met, and I feel I'm well on my way to becoming a favorite aunt. We have a bond, you see. We can say "hee" at each other for hours and not get bored. Definitely the high-point of my year (especially since I'm not the one who has to stay up late at night when she's teething) and a source of unmitigated joy (again, I don't need to do the frustrating stuff!).
Don't get me wrong. I love my boyfriend. He's a great source of joy for me, but he's also a source of unwashed socks and hair in the bathtub, so it's a slightly mitigated joy.
So yeah… looking back at it this way, I think 2014 has been a pretty good year after all. This blog doesn't at all show all the progress I've made writing (that's an aspect of life that's hard to photograph, I find), but the rest of the blog can speak for that. Actually, I find it suiting that this post ended up being just positives, because this year I've been trying to work on being more positive by, among other things, keeping a journal where I write down whatever good things have happened during the day. I'm glad this post reflects that.
To round off, here's a selfie I took just now, just for you: