Hi guys, and welcome to day 2 of #Adventboost! Today I want to point you all in the direction of the awesome webcomic The Substitutes by Myisha Haynes. I tripped over this gem by accident recently, and it was one of those moments where I read a couple of pages and then was stuck and had to keep reading, only to discover that I'd "caught up" to the current page in the comic far too soon. It's only on Chapter 1! Which in some ways is good, because signal boosting current projects makes a lot of sense, but man… I wanted to read more!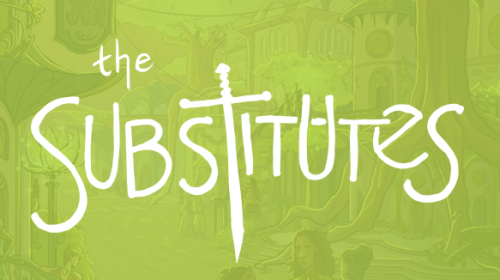 The Substitutes is a beautifully drawn fantasy comic with, at least to me, a very Dungeons & Dragons kind of vibe to it. Instead of me making a botched attempt at explaining the plot, here's the blurb from the website:
What happens when three roommates accidentally acquire powerful magic weapons destined for someone else? What happens when the aforementioned "someone elses" fall from grace and public favor in the aftermath? What happens when you've suddenly found yourself as the hero to someone else's story…?
Doesn't that sound like fun? It is! Trust me! Go read! One prologue and some portion of a first chapter into the comic, I find the world-building really interesting and can't wait to learn more. The cast is wonderfully diverse, and the drawing style makes all the characters really expressive. I (again) can't wait to get to know them more! Did I mention it's gorgeous?
The Substitutes is created by Myisha Haynes, who is a games artist. This is her first webcomic! You can follow her on Twitter @palaceofposey or check out her Patreon page. She has gone straight to the top ten of my "people I will patron on Patreon once I have money to patron people"-list.
I am not having a good word day today but basically, if you like fantasy (and/or are a D&D fan like me) and pretty art, you should read The Substitutes!
---
Check out my Zero, Eight, Love advent post for the day.