I am currently in Les Sables D'Olonne, a town on the French Atlantic coast. I'm here on holiday with my grandma, staying in a peculiar but charming house that belongs to a cousin of my mother's. I've been in France twice before, both times in Paris, and this place is quite different. Much smaller, of course, but I also find it a lot more charming. The houses are lovely, with quite the Mediterranean feel to them, the people are friendly and the weather is amazing (almost a bit too amazing; my sandals are slowly turning my feet striped). I get to practice my, admittedly rather horrendous, French.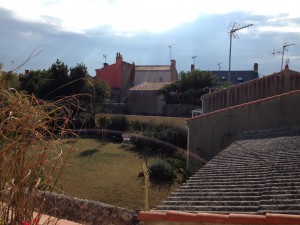 But enough about my vacation! What about my writing? Well, this week I have:
Written ~350 during my daily writing, mostly random bits and bobs, and a few haikus.
Posted about my writing exercises for August and started reading the chapter for September.
Edited two chapters in Going Home. That's 5 down, 5 to go!
This coming week, I plan to:
Do my daily writing
Edit at least 3 chapters of Going Home
Start doing the writing exercises for September (provided I dream something I remember enough to use, since we're working with dreams again in this chapter).
Publish some new haikus on my Wattpad account (once I'm back home)
Oh, and in case you hadn't guessed, I ended up having net access on vacation after all.